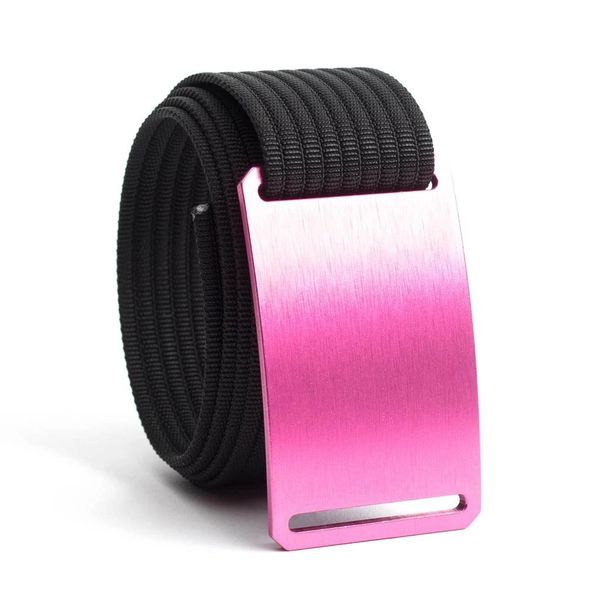 Classic Pink
We make our belts the right size by adding an extra 8 inches for the perfect fit. Order your pant size. If you are a size 33" go ahead and order the size 34". Normally add 21" to women's pant size if you don't want to measure. So a women's 12 becomes a size 33". Extra length can be cut off if necessary.
If you don't want a black strap, order the buckle only here and add the color strap of your choice separately. Mix and match your wardrobe!
GRIP6 BUCKLES
CNC laser cut
Manufactured through a 12-step machining process
Built with brushed T6061 aluminum
Bright-dip anodizing process
24 Grams
3.0" x 1.8" x .125"
GRIP6 STRAP
1.5 inches wide
Infinitely adjustable
High-tensile nylon fiber weave
Breaking strength of over 2000 pounds
50-80 grams depending on size
GRIP6 FEATURES

UNLIMITED LIFETIME WARRANTY -- The Grip6 A3 Guaran-damn-tee protects against any malfunction, accident, and all possible wear & tear. Our high-quality products were designed to last a lifetime.
INTERCHANGEABLE BUCKLES AND STRAPS -- It takes 2-seconds to mix and match, and unlike leather belts, your buckle swap will not damage or dig holes into the belt.
SIMPLE, LIGHTWEIGHT, AND COMFORTABLE BELTS -- No moving parts on this belt delivers a minimalist look with extreme durability.
LOW PROFILE BELT -- This belt lies down flat and will not protrude out from the pants or dig into the skin.
DESIGNED WITH COMFORT IN MIND -- Ultra-lightweight buckles are shaped with a slight bend for extra comfort.
NO-SLIP LOCKING MECHANISM -- Buckle designed as a single solid part so it doesn't slip or need adjustment throughout the day.
HIGH-GRADE MATERIAL -- Buckles are laser cut from T6061 Aluminum. The strap is woven with high strength nylon webbing.
ONLY BELT WITH NO HOLES & NO FLAP -- The tail of the belt tucks behind the buckle, providing a clean, sleek look.
MADE IN THE USA -- Grip6 is a provider and supporter of good local jobs.