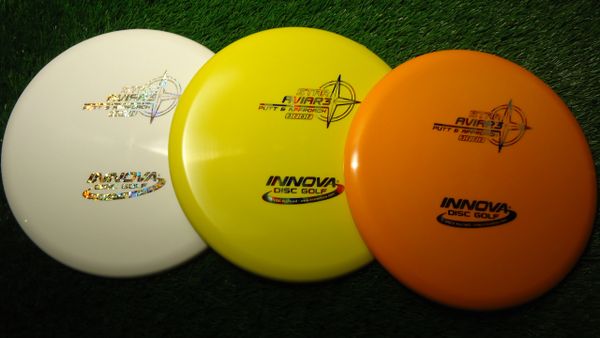 Aviar3 choice
Flat-topped and fierce, the Aviar3 is an ideal putter for short drives, aggressive upshots, and windy putts.
Best Choice for: High accuracy approaches, Driving putter, Aggressive putts

The Aviar3 has the same comfortable grip you'd expect in an Aviar putter but with a distinctive flat top. In the hand you feel the lower profile. It feels fast. Even better, it can handle the speed. Throw the Aviar3 with power, backhand or forehand, and you can trust it to drop on target.

Mini Stamp #2: Star Aviar3
A fierce standout in your Putt & Approach lineup. Number two in our series of special mini stamps is the Star Aviar3. Built for speed and less carry, the flat top Aviar3 is designed for controlled tee shots and aggressive putts. This design is minimalist—like all stamps in the series—offering players a fresh look on their favorite models.